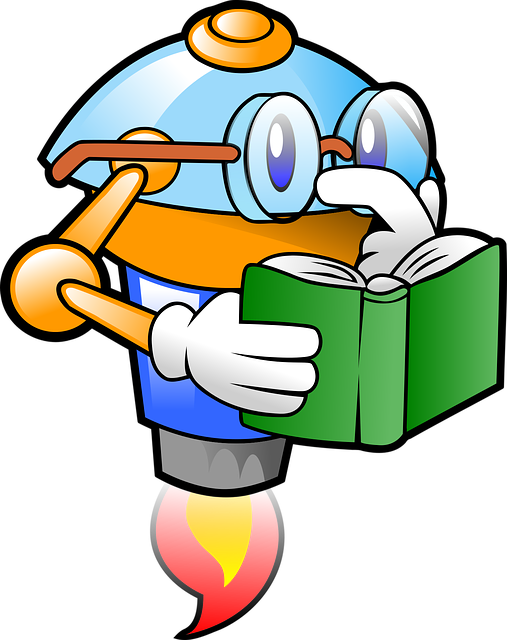 What is Fluency?
Fluency is being able to read with automaticity. A fluent reader reads with rate, accuracy, expression, and intonation.
How is Fluency Taught? 
Fluency is incorporated throughout the course as students practice reading their weekly stories and independent reading stories daily using rate, accuracy, intonation, and expression. Fluency recording assignments are started in First grade. In addition to fluency recordings, specific fluency skills are taught in the second and third grades in targeted lessons throughout the course.
Examples of how fluency is taught in the K-3 Language Arts courses are below:
Reading Text
Students learn about fluency through reading text within the lesson. For example, in the third-grade lesson below students learn about reading fluently by reading about rate, expression, and intonation. They listen to an example of a fluent reader and complete their own fluency recording.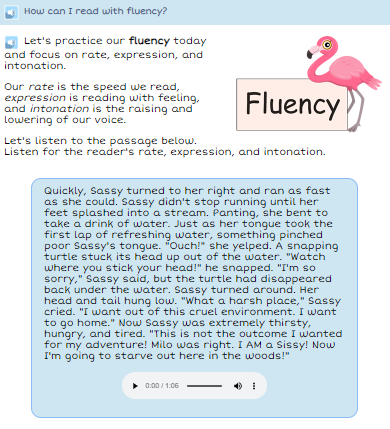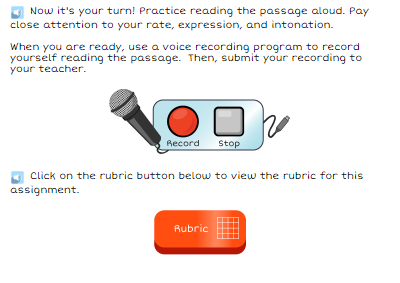 How do students practice Fluency?
Students practice fluency daily in grades K-3 as they practice reading the weekly story from the lesson. Students also complete a weekly recording of themselves reading their selected independent reading story for that week. Below is a link to a weekly story from second grade.
Weekly Story: Pixie's New Home
The directions and rubric for the weekly practice fluency assignment related to the weekly story are shown below:



How is Fluency Assessed?
Fluency is assessed throughout the course as students complete fluency recordings for the teacher to listen to and assess. Below is an example of a fluency check assessment: