What is Vocabulary?
Vocabulary is the words we use to be able to communicate through listening, speaking, reading, and writing.
How is Vocabulary Taught? 
Vocabulary is taught within each lesson through the weekly story students practice reading each day. Each weekly story incorporates the sight words for the week and words learned through phonics instruction. They also include other words related to the story. In addition to vocabulary related to the weekly story, targeted vocabulary lessons are included throughout each module, and content-specific vocabulary is also taught as students learn reading, grammar, and writing concepts throughout the course.
Examples of how vocabulary is taught in the K-3 Language Arts courses are below:
Explicit Instruction:
Students will meet with their teacher in synchronous sessions. The teacher will use a scripted PowerPoint to explicitly teach the skills being taught for each module, this includes vocabulary skills. A sample of a scripted PowerPoint is below. In this sample, the teacher introduces the content vocabulary learned in their grammar lessons as they are introduced to comparing adjectives:
Language Arts 2B Module 23 Synchronous Session
Interactive Self Check Activities:
In addition to explicit instruction, vocabulary is also taught through interactive self-check activities within the lesson. These activities provide students with practice and immediate feedback. One example of an interactive self-check activity is the vocabulary matching activity shown below: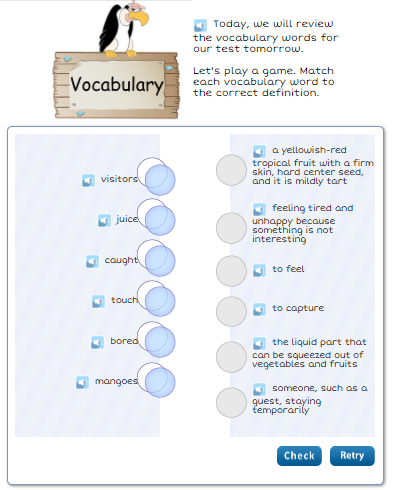 How do students practice Vocabulary?
Students practice their vocabulary skills through interactive self-check activities as shown above and also through assignments and reading weekly stories.  One example of a vocabulary assignment is below. In this assignment, students complete a crossword using their vocabulary words.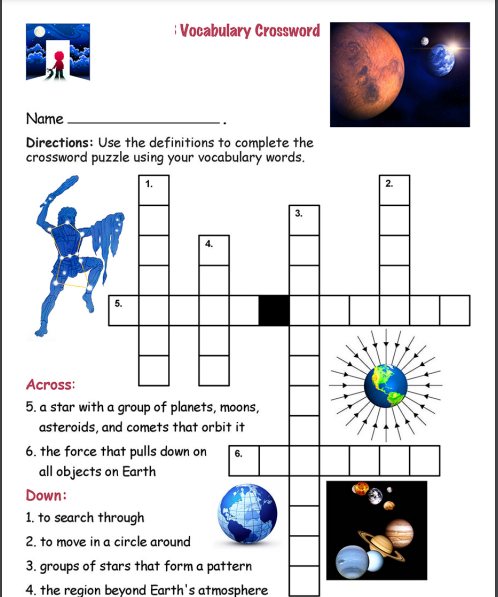 Each week students practice reading a weekly story that contains sight words, spelling words, and/or vocabulary words. The vocabulary words focus on words within the story. An example of a weekly story is below from Language Arts 3A Module 2. This story focuses on vocabulary related to Space.
Weekly Story: Discovering Space
How is Vocabulary Assessed?
Vocabulary is assessed in a variety of ways throughout each course.
Weekly Synchronous Sessions
Every 6 modules, students take an oral synchronous benchmark assessment with their teacher. These assessments are administered orally by the teacher to the student and review​ letter/sound recognition, sight words, and other concepts that are best assessed orally.
Written Benchmark Assessments
Every 9 modules students take a Written Benchmark Assessment. Students may apply their vocabulary skills in these assessments as they demonstrate their knowledge of content vocabulary in order to complete the assessment.
Vocabulary Quizzes
In grades 2 and 3 students have weekly vocabulary quizzes where they demonstrate their understanding of the vocabulary words they learned for the week.